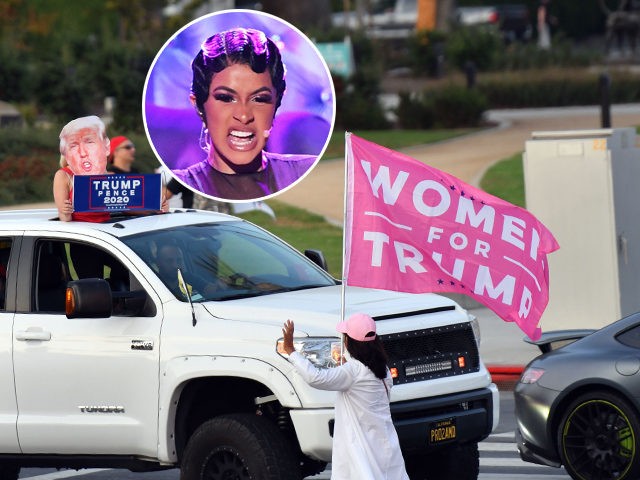 "Look how many fuckers! I'm scared now we're gonna get jumped. I really feel like we're gonna get jumped. Oh my God. Ahhh!" she screamed.
In another clip, she said: "Trump supporters are everywhere, I'm scared. I don't like it, with their big ass trucks."
The rapper said in a third clip: "I don't like this sh*t. Look at this. Look at this! Look how they're walking around, with fake guns out and covering their f*cking face. I don't like this shi*t!"
via https://www.breitbart.com/
Cardi B's Instagram rants are believed to have taken place shortly before or after police officers detained her husband, the rapper known as Offset, after someone inside his vehicle allegedly pointed a gun at Trump supporters who had just participated in a rally in Beverly Hills. Cardi B reportedly pleaded with the officers to release her husband.
The Beverly Hills Police Department released a statement late Saturday, saying that they had arrested one of the passengers in the vehicle for pointing the weapon. The individual was identified as Marcelo Almanzar, 20, who faces charges of carrying a concealed weapon and carrying a loaded firearm in public. The Beverly Hills PD said Offset wasn't arrested.