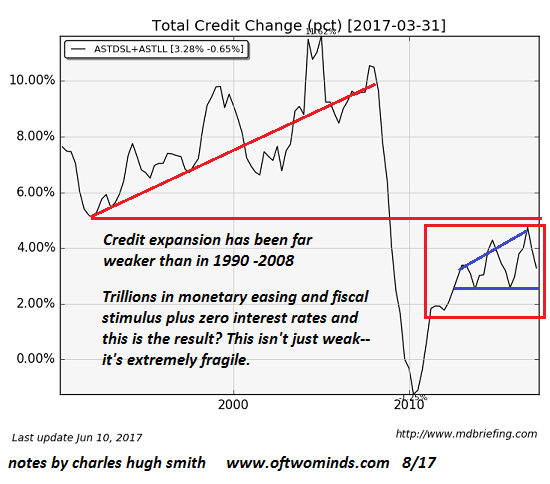 The signs are everywhere for those willing to look: something has changed beneath the surface of complacent faith in permanent growth.
When credit stops expanding, the economy stumbles into recession.
Back in the real world, have you noticed a slowing of animal spirits borrowing and spending? Have you tightened up your household budget recently, or witnessed cutbacks in the spending habits of friends and family? Have you noticed retail parking lots aren't very full nowadays, and once-full cafes now have empty tables?
According to the conventional economic statistics, everything's going great: there are millions of job openings, unemployment is near historic lows, GDP is expanding nicely and of course, everyone's favorite signifier of wonderfulness, the stock market, is hovering near all-time highs.
The possibility that the real economy just stumbled off a cliff creates instant cognitive dissonance, as the official narrative is the economy is expanding slowly but surely and everything is nominal: there's plenty of everything, from oil/gas to consumer credit to jobs to student loans.