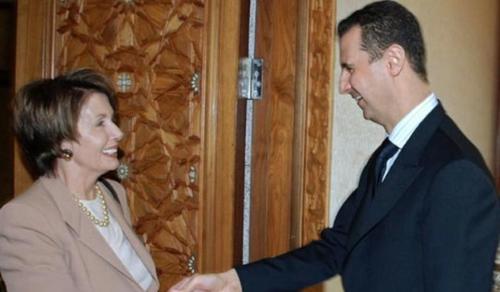 Assad was a "reformer," Hillary Clinton had said. Assad's regime had been torturing people for the CIA as part of the "extraordinary rendition" program since her husband's administration in the 1990s. Former CIA officer Robert Baer seemed to be honest about his own role in the program when he told the New Statesman that, "If you want a serious interrogation, you send a prisoner to Jordan. If you want them to be tortured, you send them to Syria. If you want someone to disappear — never to see them again — you send them to Egypt." The George W. Bush administration, in a case of mistaken identity, handed an innocent Canadian named Maher Arar over to the Syrians to be tortured.
As revealed in leaked State Department cables, in 2010 Assad's government invited the U.S. to join their efforts against bin Ladenites crossing the border from Syria into Iraq.
In 2007, House Speaker Nancy Pelosi went to Syria. There she visited the Omayyad mosque in Old Damascus and met with President Assad for three hours, insisting despite the Bush administration's objections that diplomacy with Syria was vital. "We came in friendship, hope and determined that the road to Damascus is a road to peace," she said. In 2011, John Kerry told the Carnegie Endowment that "President Assad has been very generous with me in terms of the discussions we have had. And when I last went to — the last several trips to Syria — I asked President Assad to do certain things to build the relationship with the United States." According to the AP, Kerry listed six requests for Assad, including working together on Iraqi border security and said the Syrians fulfilled them all.
In any case, the Syrian government certainly never attacked or threatened the United States. Intervening in that country did not serve to protect the American people in any way. The hawks would agree and claim this shows that selfless humanitarian concerns were at the core of their policy. The American Superman had to go and save the nice people. But that is not what the U.S. role in Syria was about. The policy was regime change.